Today, I celebrate my 3-year anniversary of leaving my CEO gig to retire early!!!
It's kind of shocking, to be honest.
Time really does fly when you are having fun!
Or maybe it's just that I have small kids and life seems to be picking up steam??
Either way, it's a bit wild that it's already been three years.
Meanwhile, my former biz partner, who still works at my former company is dealing with the same issues 3 years later….I mean seriously.
It is the definition of…well, you get the idea!
I'm going to go through the good, bad, the ugly of the last year below, but for now…we celebrate:
Is Early Retirement Worth It?
Following the same format of the last two years(Year 1 Review, Year 2 Review), I'll go in-depth here on the same benchmarks:
Happiness
Health
Wealth
Work
Fun
Goals
The bottom line, for anyone wondering, is early retirement worth it?
Yes, and I wouldn't trade it for anything in the world.
Besides getting to spend a lot more time with my wife and kids, I've gotten to do much more of the things that bring me joy.
More travel. More hiking. More camping. More reading. And more time to pursue new interests.
But I'm not going to lie…While it is better, there are still challenges.
I am still a Dad, a husband, a son, a friend, and a business owner.
I have commitments. I have obligations.
It's not all butterflies and rainbows.
So that is THE goal. And it is a work in progress…
Early Retirement: Year 3 Review
Let's dig in!
Happiness
I haven't done a deep dive into my happiness lately, but for those who don't know I track it daily.
To circle back to the above question…is early retirement worth it? Is it measurable? Why, yes it is:
In Year 1, I had a 42% increase in happiness
In Year 2, I was still 33.3% happier than before retirement
In Year 3, I have been 35% happier than before retirement
Clearly, I am much happier in retirement than before retirement.
And don't get me wrong, because I enjoyed my job! But the facts are the facts. There is less stress and more fun.
And even though I do work a fair amount (3-4 hours a day right now), it is now completely on my terms.
Yes, I work a bit, but more importantly, I work at crafting the life I want to have.
For instance, earlier in the year I made it a goal to go snowboarding again (after 15 years), and I was able to pick a random Thursday in January to go: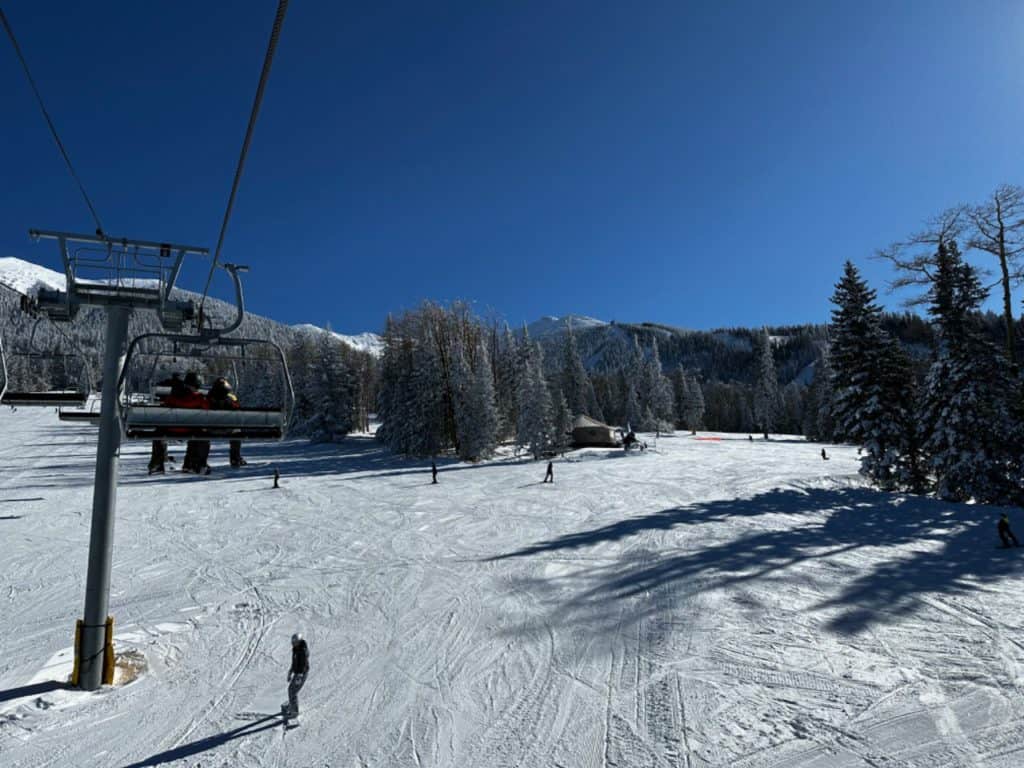 I also made it a priority to get outside and hike more, and this year I've gone on more hikes and mountain bike rides than I have in years.
So while my happiness isn't quite as high as it was in Year 1, I know that I simply need to continue to do the things that make me happy, spend more time with the people that make me happy, and continue to challenge myself.
Happiness is always a work in progress.
Health
I think this is one that has been a big improvement for me. Not that I was unhealthy by any means, but I certainly have amped up my fitness level since last year.
Steps – This year of retirement has definitely been my most active! I've made a huge effort to get outside as much as possible and either walk, hike, bike, or do something with my kids.
The results speak for themselves as I've improved my steps 11% over last year: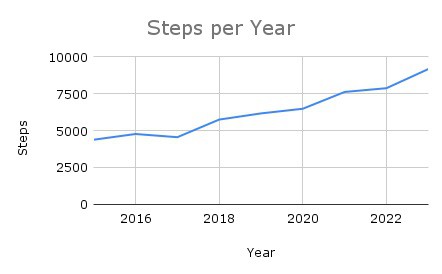 Fitness – One of the things that I've found has made a huge difference is getting an armband for my birthday last year.
I'm not really a watch guy, and I don't want anything that brings more distractions, so having a heart rate band has been a huge boon.
I got the Wahoo TICKR FIT and it's been great. I wear it when I play basketball with my kids, workout, and even when I do the landscaping (BTW that burns 700-1200 calories).
I also participated in J Money's 3,000 Push-Up Challenge in November.
Since then I've dialed it back to 30 per day, but have a routine of doing 30 push-ups, 30 sit-ups, and 10 minutes of stretching to start off any workout.
Knee Pain – As a result of my efforts to move more, my knee pain from a torn meniscus has finally gone away!
For years, I had some slight pain (nothing major), but it has finally gone away. BIG WIN!
Wealth
Net Worth – It's been a wild ride the last year for everyone right? Lots of ups and downs, but overall I can't complain.
Our net worth dipped down to a post-retirement low in September, and now my portfolio is working its way back into the green.
I have confidence in my plan, and I continue to stick to it.
Download: Easy-to-Use Net Worth Spreadsheet (Template for Google Sheets & Excel)
Expenses – Our expenses have been pretty consistent altogether from 2021 to 2022 and now into 2023.
The biggest difference is that for the last two years, we've been on a marketplace plan, and we were able to lower our premiums this year.
But this year we finally finished paying for Pre-k as of May, so we are now saving another $600 a month.
Because of this, we've been able to supercharge our travel this year!
Download: Expense Tracker Template (For Google Sheets & Excel)
Taxes – My goal was to pay $0 taxes and I was able to make it happen.
That is even despite taking quite a bit of capital gains to continue to shift our portfolio to strictly low-cost index funds.
Hopefully, by the end of 2023, I'll have eradicated nearly all of the individual stocks that we were left with when I fired our financial advisor and took over our finances.
Work
Writing – I haven't been able to get back to writing 2 times per week for AR, but that has worked out just fine.
I've been mostly able to stick to once per week, outside of the fact that we've traveled quite a lot and have re-published older articles on travel weeks.
But I continue to get a lot of enjoyment out of writing on AR, so my goal is to shift more of my "work" to that long-term.
Consulting – I haven't done any in the last year, and don't plan on it!
Affiliate Website – Man, oh man! As many of you know it's been quite a ride with this website.
Lots of ups and downs, and downs and ups.
BUT, I've been able to fully recover the site and diversify its revenue streams by creating videos and turning on advertisements (a big thanks to Adam @ Blind Luck Project for lending his knowledge in the video space).
At this point, I'm not 100% sure what to do with it…
I've hired a team of writers and a managing editor (all part-time) and built a nice editorial system with ClickUp.
Everything is fairly automated, and so on the one hand if the website starts to drive increased profits, then it might be worth keeping.
But on the other, I don't think my heart is in it long-term. I enjoy the niche, but I'm not as passionate about it as I am with AR.
So we'll see…
I love the idea of finally getting the site to a passive standpoint, but I do have concerns over AI content's impact on the business, even if I think AI concerns are largely being overblown at this point and that AI is more valuable in terms of personal time leverage than anything.
Time – Last year I talked a bit about how I basically had to un-retire to work on the affiliate website. It sure feels like I work on it full-time some days.
But mostly, it's more akin to a part-time job. My typical day goes something like this:
7:00 AM – Wake up & journal while my kids watch TV
8:00 AM – Get ready and take the kids to school/camp
9:00 AM – Twitter, Read Emails
10:00 AM – Workout/Fitness related activity
11:00 AM – Work
12:00 PM – Lunch and TV with my Wife
1:00 PM – Work
3:30 PM – Kids come home
4:30 PM – Take kids to the park or outside
So you can see that I typically work about 3-4 hours a day. Ideally, I want to do less, but I've had to lean into the amount of work that the affiliate website needs to stay cash flow positive.
My goal for the next year is to work less.
Fun
Travel – Year 2 crushed it for travel and in Year 3, we had another stellar year.
In the last 12 months as a family, we've gone camping, to Disney World, and most recently to LA and Kauai.
My wife and I also went to Vegas for our anniversary and Sedona for Valentine's weekend.
We've made some amazing memories and it has been worth every penny!
Hobbies – This was definitely much better than last year!
While I really haven't golfed in a long time, I made it a point to get outside more and so I hiked more regularly and that was great.
My wife got me a mountain bike for the holidays, and since the beginning of the year, I've been mountain biking and biking around our neighborhood.
Plus, I finally got back to the mountains to snowboard after waaaayyy too long and will upgrade my equipment and do that more again next winter.
Books – Reading continues to be a daily hobby of mine, and I've now got another 20 or so books under my belt.
After going on a long streak without some great ones, I've now had a string of excellent books. Some of my favorites from the last year include:
Goals
Finally, I want to circle back to my goals for the last year. I don't really have any changes. Everything continues to be relevant and a work in progress:
Continue to manage my finances and grow portfolio by 10%
Grow the web business to offset 50% of our expenses (while at the same time working fewer hours personally on it)
Manage capital gains and income to pay $0 tax for the year
Improve my relationships all around; family, friends, kids, wife, etc.
Have fun and enjoy running AR. Write what I want, when I want.
Play more golf – 2 times a month
Go on more hikes – 2 times per month
Continue to travel and check off things on my bucket list
More date nights – and find a new sitter!
Be more present and mentally available with everyone
And that's that.
Thanks to all of you who have been following my journey and who I have connected with along the way!
Here is to a great next year of retirement!