After Accidentally Retiring nearly two years ago, I finally decided to put a financial plan together for the first time.
It was great to get everything down on paper and have a concrete goal. Our overarching financial goal is to:
Now, most of you know that first and foremost, I want to focus on simple investing.
But unfortunately for us, simple investing does not generate enough dividends to cover all of our expenses.
And because the 4% rule really isn't safe for early retirees, combined with the fact that everything about my retirement was ill-timed and ill-planned – it was pretty clear that a big part of the withdrawal plan had to be investing in income generating assets to help reduce sequence of return risk.
And nothing, and I mean nothing, generates more income per dollar spent than a web business.
So in October 2021, after ten months of research, and one failed acquisition attempt, I took the plunge and purchased/invested an affiliate content website.
How is the website going?
So how is it all going? Good question! Thank you for asking.
Well, it has been a ride!
As I said in my initial article, buying a website is not easy – it takes a lot of time and effort to find the right fit and sift through the duds.
Running a website after you acquire it, turns out to be no different.
Web Traffic
On December 1st, 2022, Google rolled out a Product Review Update, and well the website…tanked: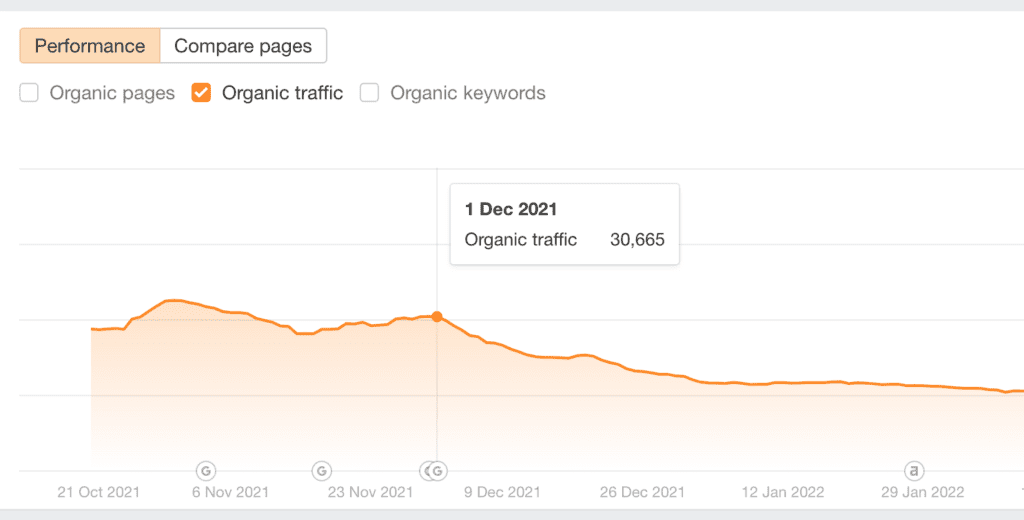 As you can see, we had a nice steady decline in traffic.
Part of it was the Google Product Review Update, and part of it was simply the seasonal nature of the website.
Either way, it wasn't fun for someone who took over operating the website only one month earlier.
While the website as a whole is mostly high quality content, clean and lightening fast, with a solid link profile, it clearly had some issues.
I was able to quickly identify that some of the primary issues were that we weren't including links to multiple sellers and weren't providing enough first hand evidence that the products were being reviewed by a real person.
Since the Google Product Update in December, I have been working feverishly on updating every single article on the website with multiple seller options. Then I created a brand new rating and review system, and systematically have been rolling it out since…
And fingers crossed, all of my hard work paid off:

Google again rolled out another Product Review Update on March 22nd, and as you can see the site has recovered.
I don't want to declare victory just yet, but so far this seems promising.
The Business Side
Revenue
As you can imagine, if traffic goes down, revenue goes down in a similar fashion.
The site as a whole entered into a nuclear winter in which it went from easily covering the 20% of our household expenses that I was hoping for, to covering only 10%.
BUT, the core content for this site is based around summer activities and travel, so my hope is that we have recovered it in time for a kick ass summer season.
Expenses
Expenses have been where I estimated them to be. The core costs are:
Google Workspace for email
Cloudflare for CDN/DNS
Domain and Hosting
Total: $75 per month
And then, we have some additional SEO and Marketing related expense that I count as "shared resources" between my two sites:
Ahrefs – for SEO research, keyword tracking, etc. (highly recommend)
Canva Pro – Easy to use graphic design
Frase – A great tool to research, write, and optimize SEO Content
Total: $75 per month
Finally, we have our variable costs which include paid marketing, and an independent contractor who writes content, does research, and assists with PR.
Total: ~$600 per month
While the last bucket is obviously the most expensive, it is also the bread and butter of the website.
And my goal is to continue to utilize independent contractors, and eventually ramp that up a bit, so that I can scale back my hours.
Cash Flow
Cash flow wise, the website has obviously not produced as I would like. But it is still more performant than real estate.
Even with a huge hit to the business, cash flow on a web business is typically going to be between 20-30% of the purchase price.
Website: with an investment of $50K, you can expect annual cash flow of between $10-$15K.
Real Estate: A $50K investment will generate an annual cash flow of 5-6% of the investment or $2.5-$3K.
So even with a big ding on our cash flow, you can see that we are still easily beating out what we could earn with a real estate investment -even by taking a haircut in the first six months.
Time Investment
Cash flow issues aside, the biggest investment that I've had to make into this website is time.
Initially I had planned on getting up to speed on the business for a few months, and then figuring out how to automate and delegate out tasks to independent contractors.
However, due to the above web traffic issues, it was pretty clear that I needed to work more "full-time" on the business. That was when I declared that I was un-retiring!
So I had to un-retire and have spent the last many months working on the business in any downtime I have.
Thankfully for you, I track my time with my time tracking spreadsheet, so we'll have an accurate picture. Here is my hourly time investment:
November: 54 hours and 37 minutes
December: 47 hours and 50 minutes
January: 49 hours and 25 minutes
February: 39 hours and 15 minutes
March: 61 hours and 15 minutes
April: 41 hours and 15 minutes
All-in-all this averages out to about 3 hours a day.
And boy does it feel like full-time to me, but when you look at the hourly breakdown it truly isn't.
I've focused a majority of my efforts around writing/editing activities, since that can singlehandedly move the needle.
But I've also spent a good bit of time building up the social media pages, and working on some operational activities such as negotiating new affiliate rates with affiliate partners, doing some revenue analysis, click analysis, and even a little engineering work.
Here is how it all shakes out:
Frankly, tracking my time has been a godsend in acquiring a business.
It really has helped me to focus on the core aspects that move the needle. That is why I recommend that you do it as well!
Top 9 Lessons Learned From Buying a Website
So here is all that I have learned from the last six months…
1. Diversify your traffic sources
Google algorithms can and do change on the time. This is the risk you take in purchasing a website. The best way to combat this is to diversify your traffic sources
2. It will take more hours than you think
Yep, if the previous owner claims they work on the business "3 hours a week" – bullshit!
If it was that easy, you probably wouldn't be selling it. I've been working on the business 3 hours a day, not "3 hours a week."
3. Plan for the worst case scenario
Many times when I was looking at acquiring websites, I wrote out what the worst possible scenario could be.
And damn, I just lived through it and hopefully came out stronger.
My planning helped me to mentally overcome the Google update, and lean into it.
4. Lean into it
I didn't know TOO much about running this type of website. So I had to lean into it.
I read up on everything affiliate website I could find on the web or on Youtube.
I invested in the resources like ahrefs and Frase, and I joined FB groups to connect with other affiliate website owners.
5. Have a plan
Because I put together a solid business plan, I had thought through everything that I would attempt to do in the first six months.
While I had to throw some of that out the window and lean into the fixes for the product update, a lot of what I set out to accomplish on the marketing side worked.
Planning works – so have a plan.
6. Be open to learning new things
Really, this is a large part of why I wanted to invest in a website.
I wanted to continue to learn new things (it is one of my life mantras after all), and I wanted to sort of see where things took me. In this case, it was down an SEO rabbit hole.
7. You always learn more by doing
Look, I have a background in running websites. I have been a software engineer, and I've run a large company.
But it's not everything. At the end of the day you learn by doing.
If you are afraid of taking the leap and think you don't have enough experience. You do.
You will learn more by doing!
8. Websites aren't passive
I knew this going into it, but running a website is an active activity.
If you are looking for passive income – look elsewhere.
9. Cash flow is the pièce de résistance
Even though cash flow was not where I wanted it to be, it was still pretty good.
In fact, better than pretty good, it was nice to have it flowing in.
Especially for an early retiree. Not having to live solely off cash reserves is a much better feeling. And hopefully it will only get better from here!
Conclusion
Even though it's been a wild ride for the first six months, I am grateful that the Google Product Update happened early on in my tenure.
This really showed me where I needed to focus my time and money to recover and hopefully improve the website perminantly.
I learned a heck of a lot, and though it feels like I am working a full-time job, the reality is that I'm not.
Running this website has been a solid early retirement project, and one that I hope begins to pay more dividends in the next half of my first ownership year!
More from Accidentally Retired