Empower is the easiest and most convenient way to track your net worth, plan for retirement, and run your day to day budget
There is a reason that many personal finance bloggers are continuously pushing Empower's Retirement Planner: it is the easiest and most convenient way to tie together your entire net worth picture, plan for retirement, and run your day to day budget.
I first started using Empower in 2020. I probably signed up after hearing about it on ESI Money, Financial Samurai, or any of the other various sites that I follow.
And the thing is that, I was already tracking my net worth, budget, earnings, and retirement projections in a spreadsheet.
Disclosure: Accidentally Retired may receive commissions for links included in this article. However, we only include links to products that we believe in and utilize ourselves. These recommendations are not given out lightly.
Empower Reviews by section:
Empower blows away anything that you can do on a spreadsheet:
The simplest and most frequent way that I use Empower is to track my net worth.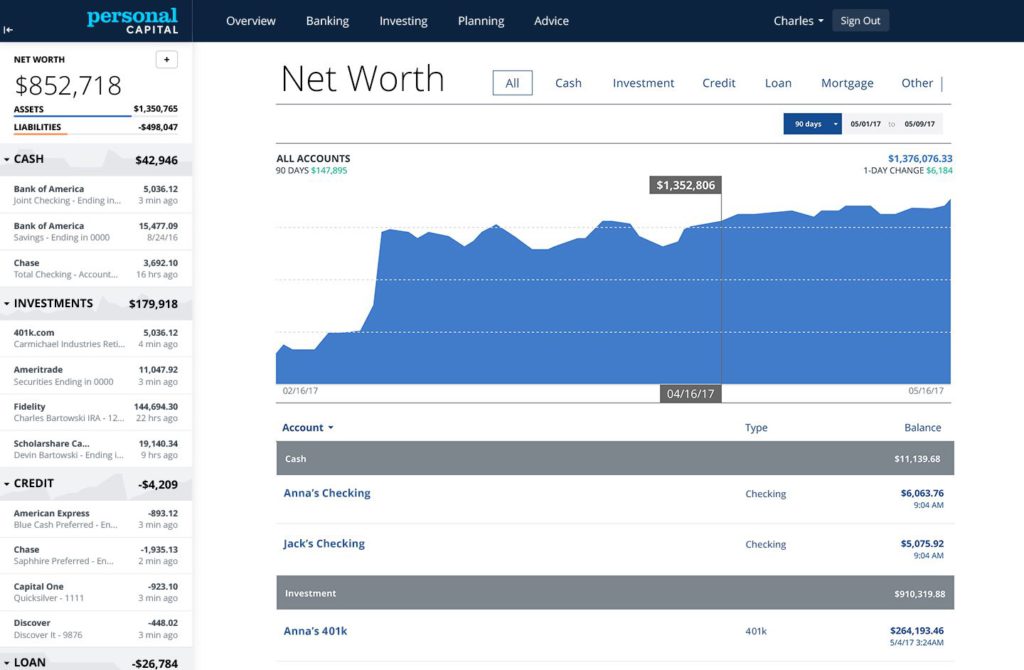 Getting setup to track your net worth is very easy:
You create an account, punch in all of your usernames/passwords for your Investment, Banking, Mortgages, and Credit Card companies that you work with.
Additionally you can add in your Primary Home and any Rental Properties and they will calculate out the value via Zillow.
Then you will have an instantaneous look at all of your accounts together. A full and accurate net worth picture.
The best part is that if you use the mobile app as well, you can get a net worth snapshot instantaneously at your fingertips daily.
Worried about the security of your accounts? Skip to the bottom.
Empower is a best-in-class budgeting tool:
Ok, so Empower has a great Net Worth tool. Now let's look at their Budgeting tool.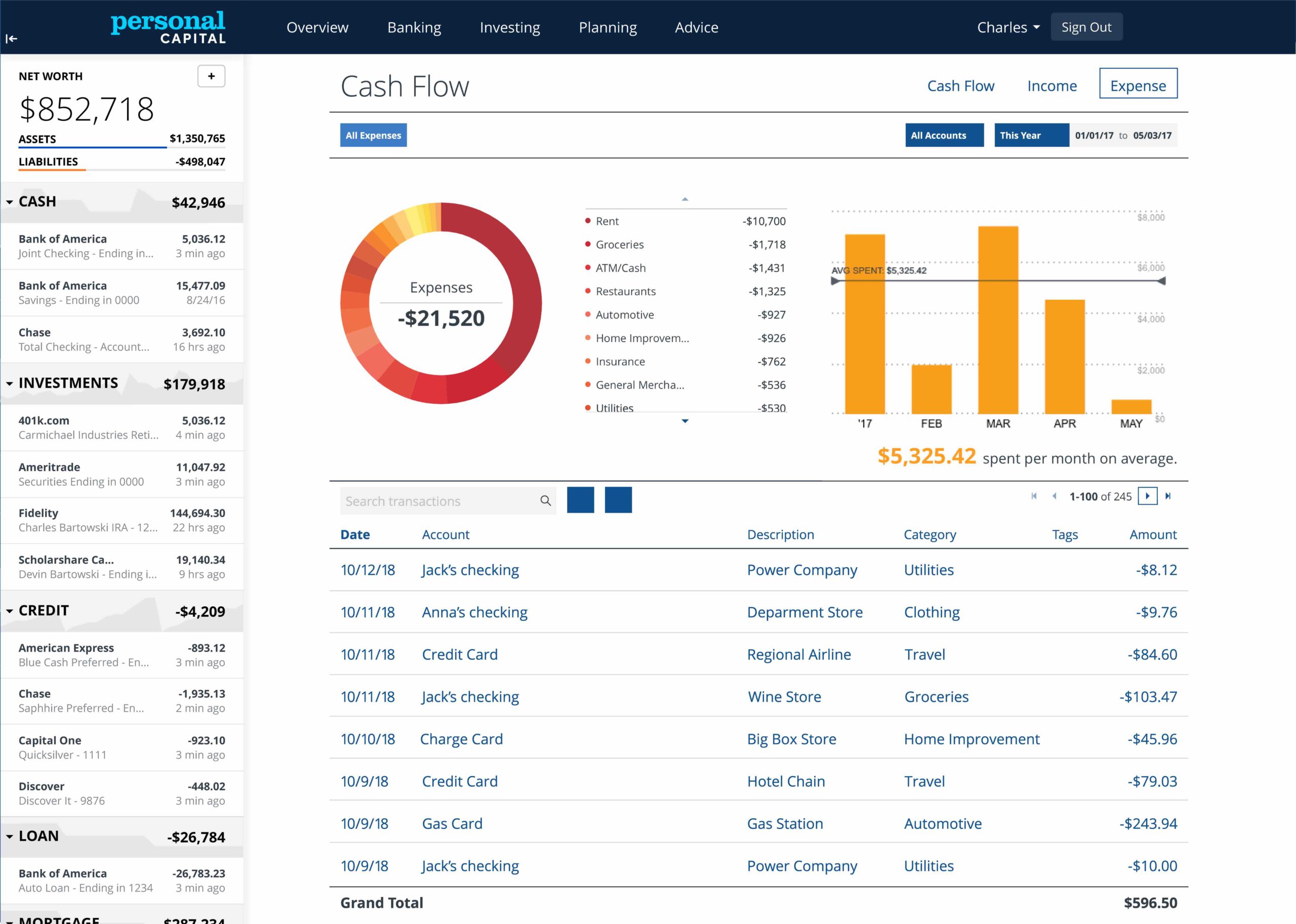 My wife and I have never really had a firm budget. We usually just try to live below our means and do annual reviews of our expenses and cut out any bloat. This has worked for us for years, but it's not a great method for really cutting costs more aggressively.
Enter Empower. We can now set an actual budget and track to our expenses to that number for the month or year. Even better, they send out weekly updated with how we are doing with our spending.
They also have easy ways to refile expenses and reconcile anything that is off. But more often that not, it correctly allocates the expense.
Using Empower, we were able to save an additional $10,000 last year even beyond our COVID savings.
Empower helps to properly allocate your investments:
If you manage your own investments, or even if you don't, Empower now seamlessly gives you a picture of your up-to-date allocations.
By having a better idea of what was going on with my allocations, I realized that I needed to make some serious adjustments.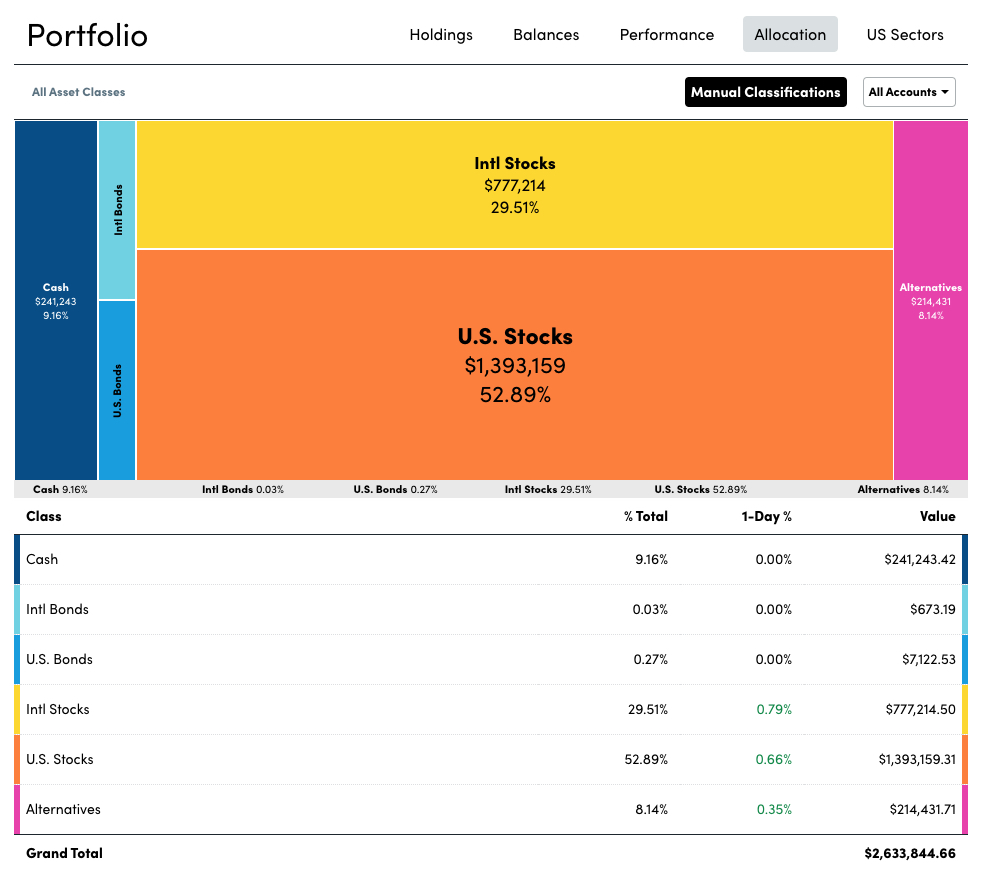 And, again, this updates daily, so as you are making allocation changes, you can see them come into play the next day and ensure that your allocations are aligning up to your investment plan.
Empower saved me from paying higher investment fees:
Honestly, this one is probably the biggest. Empower saved us from paying higher investment fees with their Fee Analyzer Tool.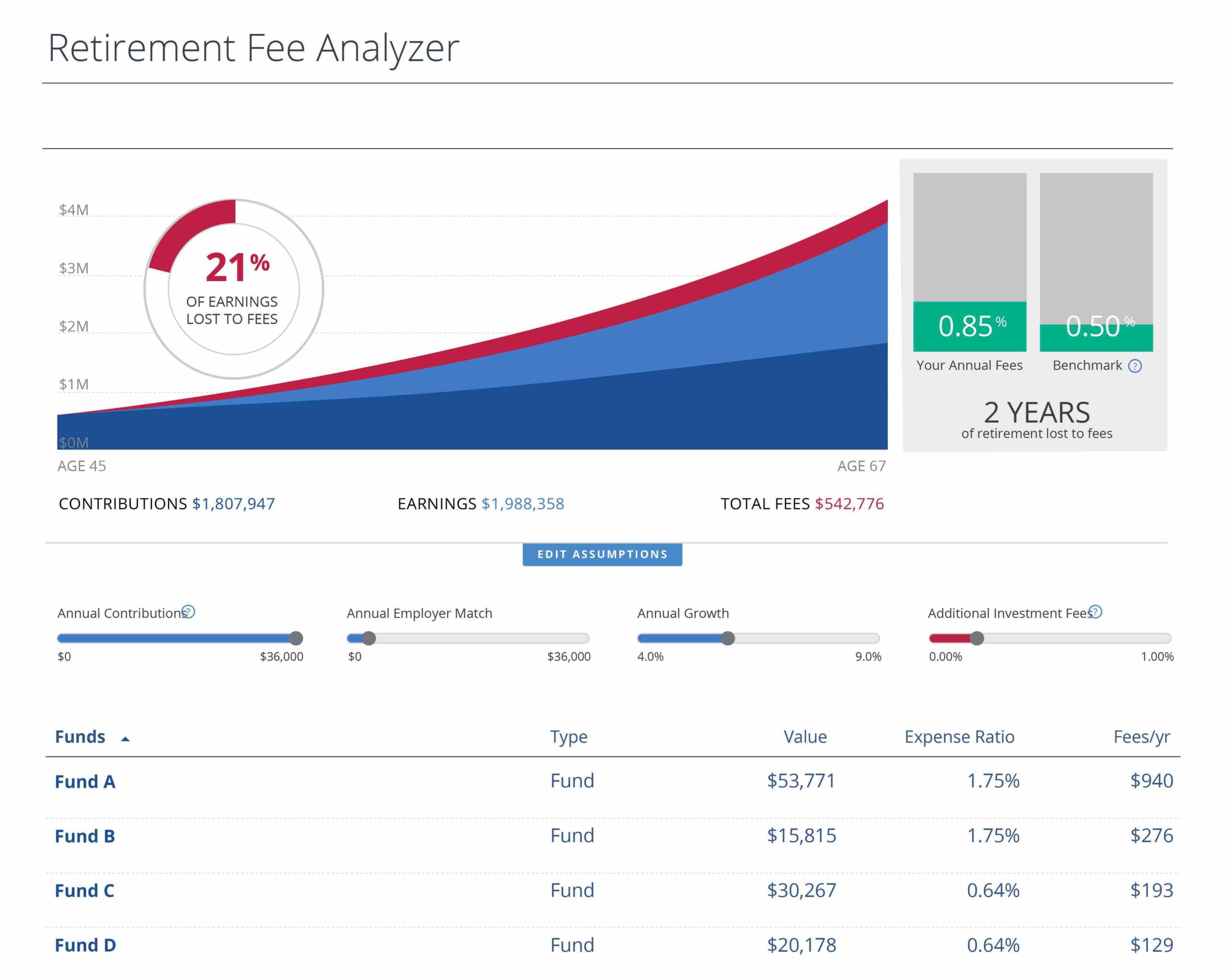 I had NO IDEA that we were not only paying an AUM fee to our Financial Advisor, but that we also were paying extremely high fees via the Mutual Funds we were invested.
So I had thought I was getting a "discount" and paying fees of only 0.5%. This was not the case. The fully loaded fees were more like 1.2%.
Empower clearly laid out the fees, in a way that I had never seen before. This led me to fire my financial advisor, and deal with the aftermath.
Empower's retirement simulations are the best I have seen:
If you have read this far, you probably realize that Empower makes great financial tools. This is no exception, as the Retirement Planner is top notch.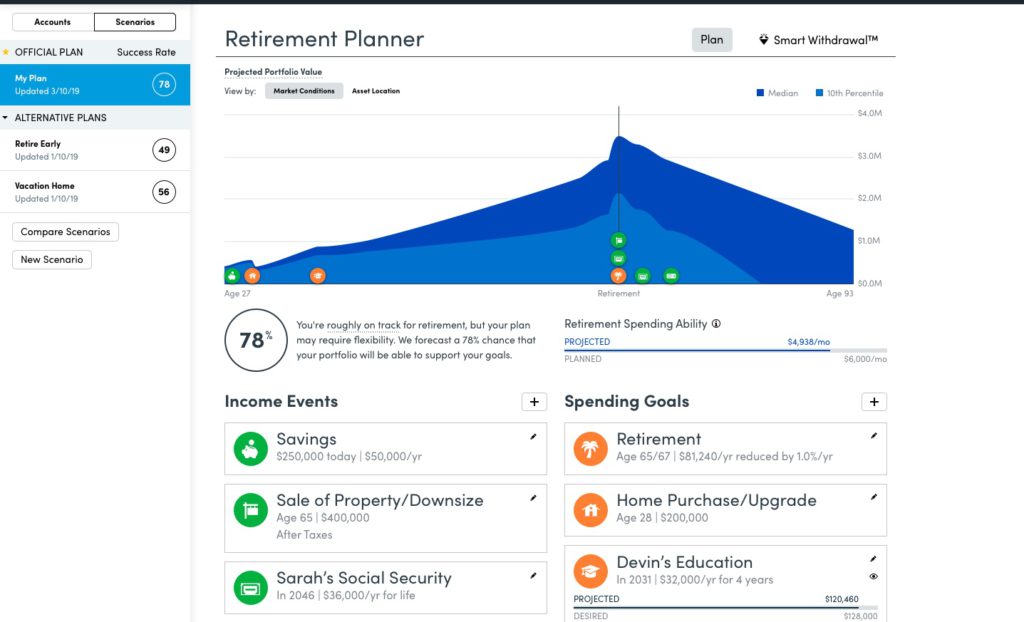 I love that you can run multiple simulations, and can take into account any scenario that can come to mind. Then they give a percentage score as to how on track you are with your plan.
I was blown away with the technology backbone they have put into this system and it makes it easy to really dive in and think through various retirement scenarios.
In fact, this helped me to decide to take a mini-retirement, and eventually led to realize that I was Accidentally Retired.
Is your account information safe with Empower safe? Yes.
Your personal information is safe. Empower has a thorough explanation here. Here is what they do to keep your data secure:
Your financial information is gathered in a read-only capacity via at first-class security firm Yodlee

Empower cannot make any trades, changes or adjustments to your accounts
Your bank and brokerage credentials are only stored at Yodlee

They secure your data with same rigorous standards used by the US military as set by the National Institute of Standards & Technology
They use multi-factor authentication
They will never sell your data to others
They have a bounty program to award ethical hackers for any security breaches they may find
They have additional fraud protection
I have used Empower for a year now, and feel that the security is best-in-class for any financial tool that I use.
Free tools are not entirely free
I am sure you have all heard the saying "There is no such thing as a free lunch".
This is the case with Empower. They have created all of these free tools to bring in folks like you and me who are interested in personal finance, tracking our net worth, and planning for retirement.
Empower makes money by running their own AUM Fiduciary and Wealth Management Firm.
If you have over $100,000 net worth and sign up with Empower, you are likely going to get calls/emails from a Financial Advisor. You can easily ignore these, but I want you to be aware that it will happen.
However, I have had several calls with Empower, and I do enjoy their technology first approach. They are not a robo advisor. There are real people making allocation decisions, and the technology theoretically could give your portfolio a competitive advantage over other AUM firms.
Their general thesis is that they will use Smart Weighting system to constantly rebalance your portfolio and harvest losses.
They put together a comprehensive transition plan for me when I was looking at changing advisors. And they also created a custom tax plan to help us to avoid taking as much capital gains as possible.
So if you are looking at switching Financial Advisors, they are worth considering if you still want to work with one.
Empower is in my daily toolbox
In the end, I decided not to work with Empower advisors, and am now managing my own investments.
But I still utilize the tools every day.
I recommend that you sign up and check it out!
Oh, and if you have any questions or concerns about Empower, please go ahead and leave a comment.
More from Accidentally Retired