I'm not a fitness freak.
I don't do ANY strength training.
Yet, I completed 3,000 push-ups in November!!
Honestly, the number STILL astounds me.
I just did 3,000 push-ups in ONE month.
I've tried to do daily push-ups before…but it never stuck for long.
Without a solid plan or an accountability partner, my fitness goals have largely come and gone.
ENTER: J. Money and his 100/day Push-up Challenge.
I'm not sure where he came up with the idea, but he tweeted it out, and the rest was history:
Well, I've now completed the challenge, and have learned a lot. Here are the many lessons of the last 30 days…
7 Lessons Learned on Motivation, Habit Building and Overcoming Obstacles
1. You need an accountability partner
When I saw J. Money's tweet, I KNEW I immediately had to say yes.
I've developed plenty of great work habits of the years, but for most of them I haven't needed an accountability partner to be successful.
We are always trying to present our best selves to the world. We comb our hair and brush our teeth […] We want to get good grades and graduate from top schools […] We care about the opinions of those around us because it helps if others like us. This is precisely why getting an accountability partner or sining a habit contract can work so well."

– James Clear, Atomic Habits
James Clear was 100% right. This was my first pass at having an accountability partner for a fitness related activity and it moved the needle.
Being part of something bigger than myself was a difference maker.
2. There is no such thing as motivation
For fitness related things, it has become clear to me that I am not motivated enough.
I've "wanted" to do push-ups constantly for a long time.
But "wanting" and DOING are 2 different things.
I learned that I am lazy when it comes to physical pursuits.
Without an accountability partner and a targeted specific goal, my motivation means nothing.
Motivation doesn't matter, but daily habits do!
3. Pushing your limits feels good
Doing 100 push-ups a day is easy.
Then it's hard. VERY hard!
Had I not had accountability partners, I would have given up.
But I kept pushing myself and am proud of what I accomplished.
So the lesson learned is that pushing your physical and mental limits feels good. And we should all do it more!
4. Rest and recovery days ARE important
The first few days I went hog wild and tore those push-ups to shreds.
But then soreness set in, and by day 3, I was trashed.
So I rested. And then I took some days slower than others.
Yet, I was eventually able to do 150+ per day and finish my 3,000
Here is how it looked:
Day 1 – 30-20-10-15-20-5 (100)
Day 2 – 20-20-10-10-10-15-15 (100)
Day 3  – 20-20-20-40(incline) (100)
Day 4 – 0 (too sore)
Day 5 – 0 (too sore)
Day 6 – 20-20-20 (60)
Day 7 – 20-10–10-10-10-10-10-10-10 (100)
Day 8 – 10-10-10-10-10-10-10-20-20 (110)
Day 9 – 10-15-15-15-15-10-20-20 (120)
Day 10 -15-10-10-10-10-10-20 (85)
Day 11 – 10-10-10 (30)
Day 12 -15-20-15-10-20 (80)
Day 13 – 20-10-10 (40)
Day 14 -20-20-20-20-10-15-15(120)
Day 15 -20-20-20-20-20 (100)
Day 16 -20-20-20-20-20-25 (125)
Day 17 -20-20-20-20-20-20-10-15-20 (165)
Day 18 -20-20-20-20-20 (100)
Day 19 -20-20-20-20-20(100)
Day 20 -20-20-20-20-20-20-20(140)
Day 21 -20-20-20-20-20-20 (120)
Day 22 -20-25-25-25-25 (120)
Day 23 -25-25-25-25-20-25 (145)
Day 24 -25-25-25-25-25 (125)
Day 25 -25-25-25-25-25 (125)
Day 26 -28-25-25-25-27 (130)
Day 27 -30-30-25-30-25-25 (165)
Day 28 -25-25-30-30 -25 (135)
Day 29 -25-25-25-25 (100)
Day 30 – 25-25-25 (75)
As you can see, my rest days (and lighter days) were critical to being able to the distance.
And this goes for your mind too.
Did you know that you only get about 90 minutes of daily peak mental performance?
You cannot do it all.
You need your rest days physically and mentally, so take em!
5. We are capable of more than we think
If someone asked if I could do 3,000 push-ups in a month…I might have said NO.
But I am clearly much more capable than I think.
Heck, we are ALL way more capable than WE think.
Even if you don't think you can do something, give it a go! You'll find that you surprise yourself.
6. It's always a marathon not a sprint
It doesn't matter what has happened to set you back.
So what if my body gave out after 3 days?
You can and will make up for any losses in the long-run.
Be it finances, health, or relationships -> all good things take time.
Life is a marathon not a sprint.
7. Gains (mental and physical) can be made in a short time
In just 30 days I was able to:
complete 3,000 push-ups
build 1/4 inch in muscle girth on each arm
overcome mental and physical obstacles
learn big life lessons along the way
It didn't take all that long to get enough momentum to take 100 push-ups and turn it into a daily habit.
Sometimes it feels that things take FOREVER, but once you get past the dip, you usually see progress pretty quickly thereafter: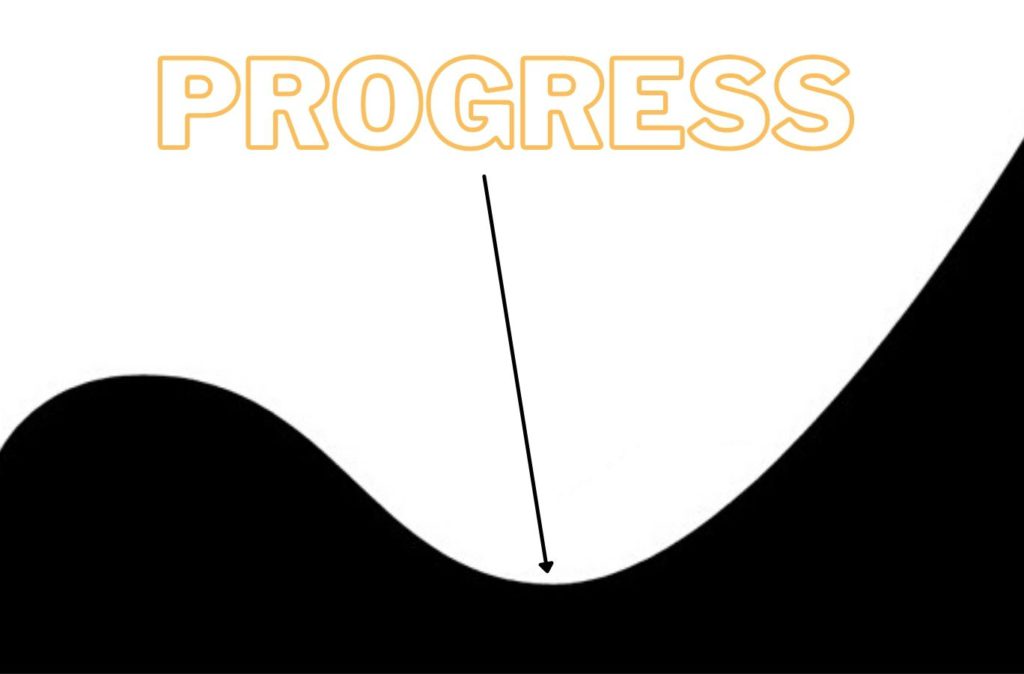 3,000 Push-ups Taught me Some Big Life Lessons
I didn't anticipate learning so much from a simply daily habit.
But I did! I learned that:
There is no such thing as motivation
Accountability partners are critical
Pushing yourself feels good
We are all more capable than we think
It's a marathon, not a sprint
Rest days are key
Improvements come quickly
Maybe you have something that you have been "wanting" to do, but haven't started?
It doesn't have to be 100 push-ups per day. Maybe it is reading, or writing, or whatever it IS that you are interested in.
I urge you to find an accountability partner and just start. You got this!
More from Accidentally Retired