Progress is always slow.
Updated: February 7, 2022
Doing the work to build something, pay off debt, save money towards your financial independence, or even parenting your kids….it is all sloowwww.
At times it feels like you are making no progress at all.
Other times it feels like you are going backwards or hitting a brick wall.
No matter what you do, it never seems to be enough.
An unexpected bill pops up, the stock market tanks, you aren't making any money in your side hustle, or your kids continue to make the same mistakes and have the same tantrums daily.
Progress seems futile.
Are you making any progress?
Yes.
No.
Maybe?
When you feel like you are not making any progress, you are in what Seth Godin calls The Dip, and he wrote a whole book about it.
The Dip is where things are both the most challenging, but also the most critical point of your journey towards progress: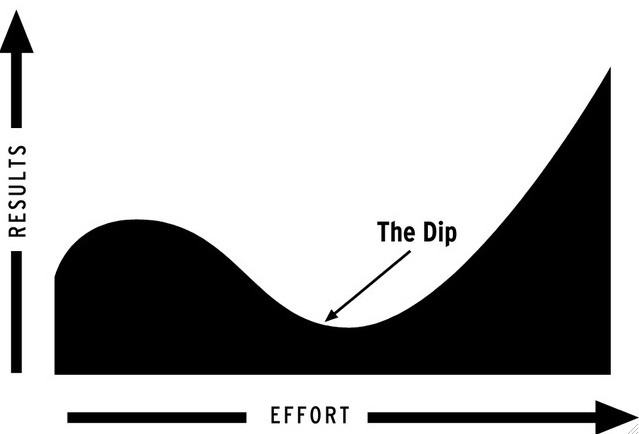 The Dip is the phase of your journey where you need to dig deep. You need to use grit, determination, and persistence to power through the drudgery.
The moment that real progress is made
Do you pick yourself up off the ground and keep at it, or does The Dip force you to give up?
Do you decide to sell when the market tanks, or do you hold on for the ride back up?
Do you remind yourself that rome wasn't built in a day (1,229 years actually), or do you get frustrated and hang up your cleats?
Or do you quit whenever there is any dip at all?
As you can see in the illustration, the magic happens after The Dip.
Your progress. Your results. They happen AFTER the dip. You need to wade through all the bad times just to get to the good times.
But it's not just you. This is EVERYONE.
Progress is very much like pushing a boulder UP a hill:
You start pushing your boulder.
You need to keep at it.
You do a little each day.
Little by little you make progress.
Then one day your boulder gathers momentum …
….
… and the boulder rolls down the hill infinitely faster than it went up.
That right there is how progress works.
It may take months, or even years to get that boulder up that hill. But eventually you do get it there.
Even when you are sinking in your own mind's quick sand, there is always a way out.
Grit. Determination. Persistence. Drudgery.
Pushing ahead even when things seem bleak. That is the way through.
Or as Ryan Holiday and the Stoics put it, "The Obstacle Is the Way".
Stocks rebound.
Savings grow and compound.
Your side hustle starts earn money.
Your kids finally "get it" and are well behaved.
And you do it by pushing through The Dip with one foot forward every day. That is progress.
Life is hard, until it's not.
But don't go overboard!
Don't get lost in The Dip.
If you are NOT making progress with something for a prolonged period of time.
If you are hitting that brick wall day after day, for years and years, you need to have a heart with yourself.
So while I encourage you to power through The Dip to work towards progress every day, you also need to be OK calling it quits when the time arises.
Don't get lost in The Dip!
P.S. While I didn't intend this post to get so focused on Seth Godin's The Dip, I do highly recommend it if you are looking for a motivational short read!
More from Accidentally Retired