I've always wanted to write.
Then 1 year ago, I finally acted on it after finding myself Accidentally Retired.
Writing helps me to better think and focus…and I have found over the years that I can express myself in a more authentic way in written form.
So I followed my heart and during my mini-retirement, and I decided that it was time to start this site. Besides, I was Accidentally Retired, so what else did I have to do?
A look back over the last year
In the last 6 months since my last blogging update, the site has continued to evolve and reach new heights.
I was honored with the opportunity to guest post on two flagship financial independence sites, and over the summer AR was selected as a Plutus Awards Finalist for Best New Personal Finance Blog, and Best Financial Independence or Retire Early Content.
Though I didn't win either award, it surely has made it a heck of a ride.
AR work has been featured on:
AR has been interviewed by:
AR guest posts on other sites:
The FIRE Insights Blogger Survey
I was inspired to join the PF community in doing something interesting and different, so I launched The FIRE Insights Survey in May.
The goal of the survey is to measure interest/blogger sentiment in various asset classes over time, highlight great content, and source advice/recommendations for our community of readers.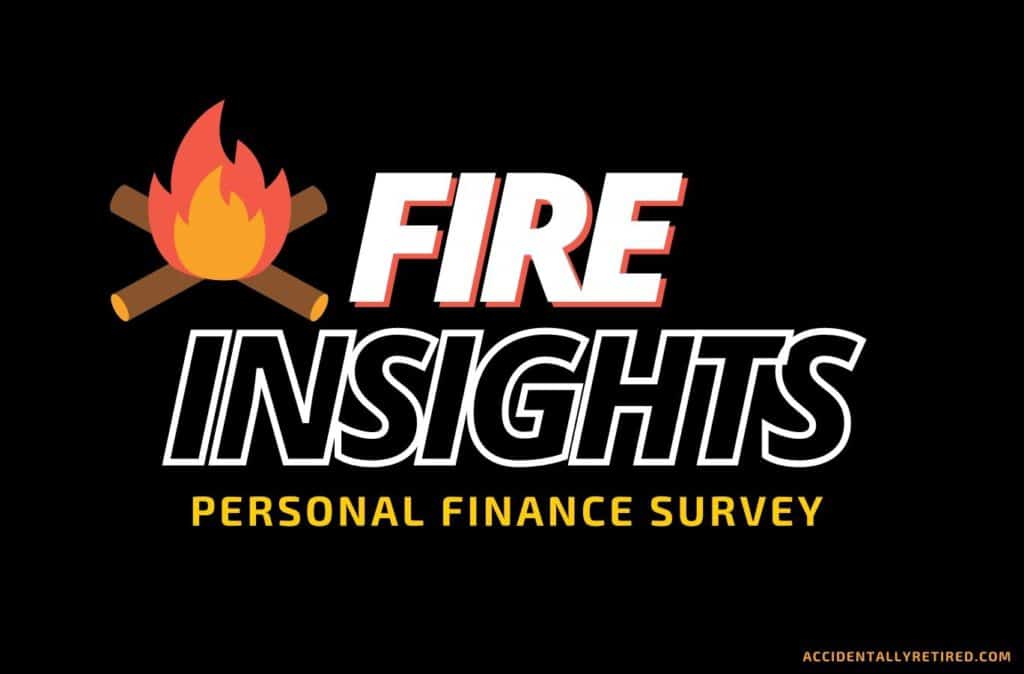 In total, I have surveyed over 300+ personal finance content creators and have had some great book, podcast and article recommendations. The survey also has surfaced some really insightful data from around the community, so check em out. We have done five in total!
AR – By the numbers
In total, I've published 95 pieces of content.
It's not too shabby of a number, but the last six months were a bit slower than the initial 62 that I published prior, due to purchasing a website as an investment, and then having to un-retire to work on it.
All in all, the articles have generated 504 comments (240 of which are mine) and a mind boggling 1,898 spam comments!
Articles by Category
Traffic/Social/Email
Top Articles
Top Resources
AR Revenue and Expense:
While making money is not the primary goal of AR, it has started to earn a bit of affiliate income the past few months to cover the costs of operation (yay)!
Not much has changed in the last six months in terms of operating the site. Hosting is still ~$3.50, Google Workspace is still $5.50, Cloudflare at$20, and I haven't yet reached enough subscribers to pay for Convertkit.
The one big expense that I added, is that I started using Zlappo (<–affiliate) in September thanks to some recommendations from the PF community.
If you are an active Twitter user, and you want a better way to schedule, promote, retweet and optimize your account, give Zlappo a try.
You still have to put in the work, but since I signed up, it has taken the headache out of scheduling tweets and has helped to grow my Email Newsletter 4x.
Total Costs to run AR: ~$44 per month
Thank You
A big thank you to all of my readers, email subscribers, and twitter followers!
I hope that you all enjoy what I am doing and continue to come back – but if you don't then I know that my writing is off the mark. It'll be on me. Not you.
While AR is a labor of love, I still appreciate any support financial or non-financial that you can give!
Financial Ways to Support
1. Sign up on Personal Capital
Personal Capital has amazing tools to help you track your net worth, plan for retirement, run your weekly/monthly budget and more. I utilize their service and highly recommend their services. Full article here.
2. Shop/Sign up with Amazon Affiliate Links
Any/all books linked to on this site contain our Amazon referral code and if you make a purchase within 24 hours, I'll earn a commission with no cost to you. You can also just click the link below and purchase anything you want.
3. Sign up for Zlappo to take your Twitter account to the next level
If you are an active Twitter user, and you want a better way to schedule, promote, retweet and optimize your account, look no further than Zlappo. You still have to put in the work, but since I signed up, it has taken the headache out of scheduling tweets, and helped to grow my Email Newsletter list by 4x.
Non-Financial Ways to Support
1. Subscribe to the AR Email Newsletter
When you subscribe, you will receive our content straight to your inbox. Typically a few times a week.
2. Follow on Twitter
Self explanatory I hope?
3. Come back and tell your friends!
Thanks again for supporting AR!
I appreciate it and look forward to creating more content, spreadsheets, and surveys for you!
And remember, it should be a Hell yeah! or no.