Should you pay down your mortgage and live debt free or invest? There is an even better option with a one-time partial payment.
Update – April 13th, 2022
A major calculation error in my spreadsheet has shown that the content in this post is incorrect.
While I still believe that paying down your mortgage provides huge mental benefits, and partial-pay offs are great ways to reduce interest – the case is clear that investing is the superior option.
I've updated the spreadsheet to more accurately reflect the pay off calculation, and will full update or remove this post in the future.
Updated – November 12th, 2021
That is the age old question that many ask themselves. When interest rates are lower than investment returns, it always will mathematically make sense to invest over paying it down.
But when you pay down your mortgage, there is a huge feeling of relief, safety and stress that melts away.
I always thought that the holy grail of Financial Independence was to one day be able to pay down my entire mortgage and live debt free.
But when the time came to do so, I could not do it, even though we enough cash to pay it down.
If we paid off our mortgage, we would deplete our cash reserves. So our options were to:
Pay down our mortgage and live debt free
Invest the money in the market
Invest in real estate
Hold the money for a future date
I honestly could not decide what to do.
I ran the numbers, but was analysis paralysis for me. Mathematically it doesn't make sense to pay down the mortgage vs. investing.
So, we decided to just leave the cash as is at the moment and would "figure it out later."
Solution: Partial paydown of the mortgage
Then one random evening over dinner with friends, one of my friends mentioned that he had started to "chunk away" at his mortgage.
Basically he meant that he was paying lump sum principle payments to reduce the amount of interest paid and speed up the term of the loan.
I had never thought about a partial payment, only paying it in full vs. investing.
So, I went and ran the numbers with David Ramsey's nice and easy to use mortgage payoff calculator.
After playing around with his calculator and running various scenarios, I realized the true power in a partial pay-down of the mortgage.
Scenario 1: Partial payment of 16% of the principal:
I will use an example mortgage with the following for all scenarios:
Original Loan Amount of $300,000
2.75% Interest Rate
First payment date 02/01/2020
For Scenario 1, we will use a lump sum payment of $50,000: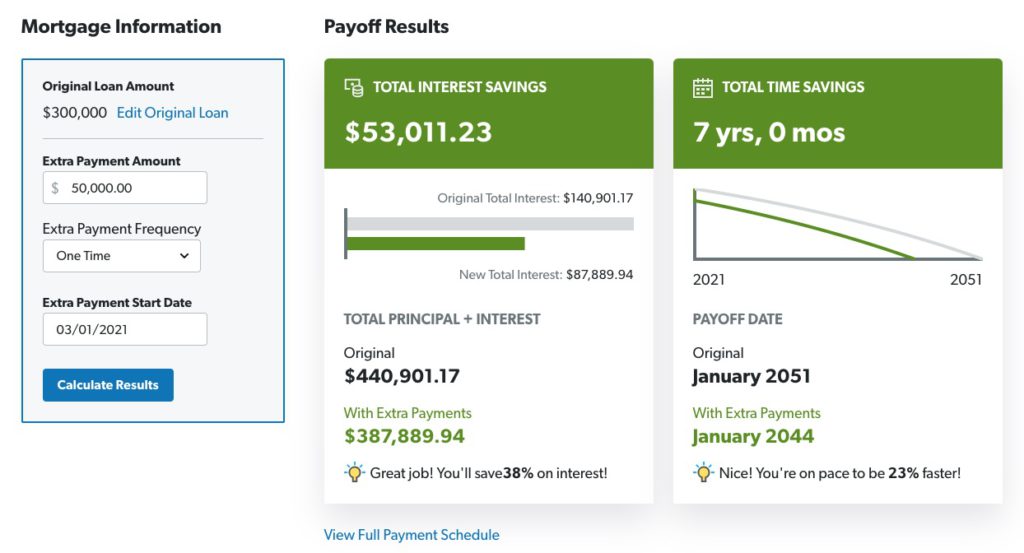 As you can see, the "Extra Payment Amount" of $50,000 resulted in $53,011.23 in "Interest Savings" and cuts this loan down by 7 years!
By taking some of our bloated savings account and "moving the money" to our mortgage via our lump sum payment, we could lower the term of our loan by 7 years.
Our monthly payments will not change, but we will save as much interest as we have now deposited into our mortgage account to pay down the principal.
But what if we did more?
Scenario 2: Partial payment of 50% of the principal:
So my next thought is what if we pay down 50% of the Original Loan Amount or $150,000 instead of $50,000?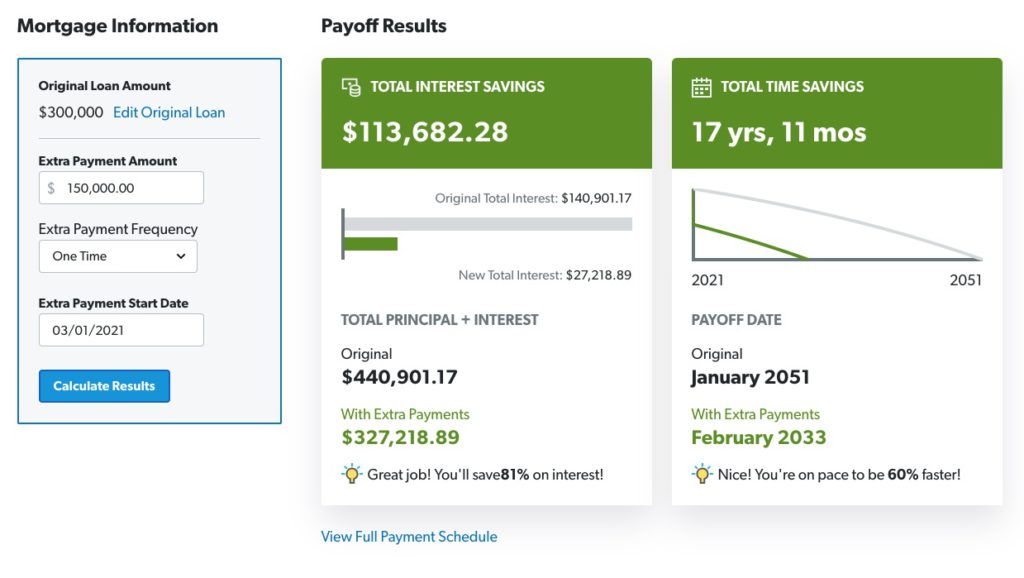 Now our results are getting really interesting.
The "Extra Payment Amount "of $150,000 now saves us $113,682 in "Interest Savings", but even more impressive cuts the loan down by nearly 18 years!
So in only 12 years our new 30 year mortgage would be paid down by depositing 50% of the principal. We would still be paying the same amount each month, but the mortgage would be paid in full in just 12 years.
Not only that, but total interest payments would plummet.
It was pretty clear that if we were willing to commit to the illiquidity of 50% of the mortgage, we would essentially be turning our mortgage into a 12 year savings account.
Plus, by only paying down 50% we would be able to invest the other surplus cash in the market.
Impact of a Partial Payment on Net Worth
Ok, to come full circle and show just how much paying down any percentage of your mortgage works, I am going to put together a scenario for you to show you the tremendous impact of partially paying down your mortgage.
$300,000 original principal amount
$300,000 cash available to pay down or invest
10 year time horizon
8% annual compounded return on investment
The results are magic; paying 50% of your mortgage gives you the highest net worth in 10 years:

It is pretty clear that paying down your mortgage in full is the big loser here. Your net worth suffers by $215K in the worst scenario.
Yep, in fact, the clear cut winners are either paying down 50% of your mortgage, OR 33% of your mortgage.
So indeed, paying down ANY percentage of your mortgage is the BEST financial move that you can make:
It lowers your interest payments for the life the loan
It shortens the loan
It speeds up your principal payments
So, if like me you end up trying to decide between paying down your mortgage or investing, you now know that the best option is to split the difference.
Partial mortgage payments turn your mortgage into a savings account and doesn't compromise investment returns. It is the best of both worlds.
Update: Not Convinced? Check out my Pay Off Mortgage vs Invest Calculator Spreadsheet, so that you can play around and see for yourself what works best for your unique situation.
More from Accidentally Retired