Book Review, Highlights and Quotes from The Little Book of Common Sense Investing by John C. "Jack" Bogle
Love, love, love, love. If you are wanting to read just ONE book about investing, this should be it: The Little Book of Common Sense Investing, by John C. "Jack" Bogle
Admittedly I have not read THAT many investing books over the years. I have read the likes of The Millionaire Next Door, by William D. Danko, Rich Dad Poor Dad: What the Rich Teach Their Kids About Money That the Poor and Middle Class Do Not! by Robert T. Kiyosaki, and The Only Investment Guide You'll Ever Need, by Andrew Tobias.
This book is the reason why I not only fired my financial advisor, but took over my finances. I realized that investing can and should be simple.
Jack Bogle is the founder and former chairman of the Vanguard Group and the inventor of the Low-Cost Index Fund. His book builds a thorough case for why all of us average investors should invest via Low-Cost Index Funds. The simpler the better.
I powered through the book and it thoroughly changed my perspective on investing, de-mystified it for me, and sent me on the journey that I am now on.
AR's Book Score: 10 out of 10
Key book highlights from The Little Book of Common Sense Investing
The Little Book of Common Sense Investing's subtitle covers the overarching theme of the entire book:
The answer is a Low-Cost Index Fund. And Bogle systematically shows why Index Funds are the easiest and best way to guarantee that the average investor like you and me can get our fair share of stock market returns:
The book also contains many great Exhibits that prove out mathematically all of Bogle's points. In this case, showing what happens when fees eat into your returns: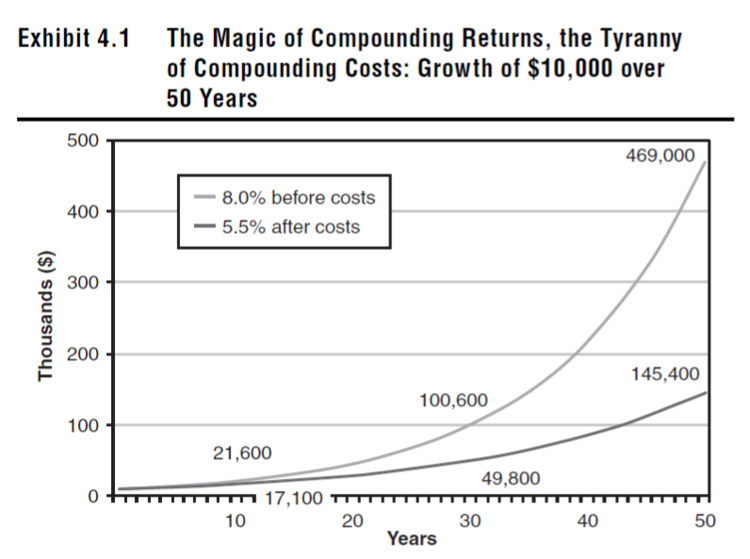 Best quotes from The Little Book of Common Sense Investing
Don't look for the needle in the haystack. Just buy the haystack!

The Little Book of Common Sense Investing by Jack Bogle
The grim irony of investing, then, is that we investors as a group not only don't get what we pay for, we get precisely what we don't pay for. So if we pay for nothing, we get everything.

The Little Book of Common Sense Investing by Jack Bogle
In the investment field, time doesn't heal all wounds. It makes them worse. Where returns are concerned, time is your friend. But where costs are concerned, time is your enemy"

The Little Book of Common Sense Investing by Jack Bogle
The expectations market is about speculation. The real market is about investing. The stock market, then, is a giant distraction to the business of investing.

The Little Book of Common Sense Investing by Jack Bogle
Too often, the market causes investors to focus on the transitory and volatile short-term expectations, rather than what is really important – the gradual accumulation of the returns earned by corporate businesses.

The Little Book of Common Sense Investing by Jack Bogle
A low-cost all-market fund, then, is guaranteed to outpace over time the returns earned by equity investors as a group. Once you recognize this fact, you can see that the index fund is guaranteed to win not only over time, but every year, and every month and week, even every minute of the day."

The Little Book of Common Sense Investing by Jack Bogle
The record can hardly be clearer: The more the managers and brokers take, the less the investors make. Again, if the managers and brokers take nothing, the investors receive everything (i.e., the total return of the stock market).

The Little Book of Common Sense Investing by Jack Bogle
As vital as those services may be, advisers as a group cannot be credibly relied upon to add value by selecting funds that will beat the market.

The Little Book of Common Sense Investing by Jack Bogle
Do not adhere rigorously to spending rules such as 4 percent annually. Maintain a level of flexibility in your retirement spending plan. If the markets are particularly bad and your spending rule would take too large a bite out of your portfolio, tighten your belt and draw down a little less.

The Little Book of Common Sense Investing by Jack Bogle
More John C. "Jack" Bogle
Love books? Get Unlimited Reading/Listening:
More book recommendations from Accidentally Retired: