What do sports betting and stock picking have in common? They're both gambling.
Late last year, after spending a significant amount of time talking with fiduciaries and reading The Little Book of Common Sense Investing by Jack Bogle, I fired my financial advisor, and took over my investments.
My mini-retirement had finally given me the time to really learn more about investing, and after taking many months to soak up as much knowledge as I could…it all led me to the conclusion that low cost index investing is the simplest and easiest way to earn better than average returns.
Yes, I am a Boglehead!
So after firing my advisor, I put together a financial plan, and have tried to stick to it as best as I can.
I've worked quite hard to manage capital gains from the transfer, sell out of expensive mutual funds, and manage an out of control portfolio of 80+ stocks.
Then I made a bad decision.
False logic and FOMO
Already owning 80 stocks that I wasn't going to be able to sell out of anytime soon, I figured "I should pick some stocks that I believe in" to supplement my personal mutual fund:
I created a small play portfolio of growth stocks to invest in for the long-term. It felt good to own individual stocks that I wanted in my portfolio.
So against all Boglehead advice, I took about 1.5% of my total portfolio and invested in these stocks.
My intentions were pure. I really believed that I would own them for at least 5 years, come hell or high water.
My logic was back asswards. I was chasing a sunk cost. My sunk cost in this was the 80+ stocks that I already owned and couldn't sell off.
I thought that I could help round out my portfolio. I thought that I should at least get to chose some growth stocks that I would be stuck with for the long-term.
I was wrong. I could feel it in my gut. I just didn't listen.
Today, I trusted my gut.
A few months back during a minor market correction, I wanted to look and see if there were any expensive mutual funds that I could sell off and "save" on capital gains tax.
Then I noticed that most of my "play portfolio" stocks that I added earlier in the year had all taken a beating.
I considered if I should sell some to take losses. I already had sold a few last month to take some short-term losses and allow me to sell more of my 80+ stocks that I didn't want.
But I needed to listen to my gut.
I had to think long and hard about it, but the answer was yes.
False logic. FOMO. Sunk cost fallacy. Whatever, you want to call it, I was using it.
Simplicity beats complexity in investing
We could cue in a comment from Warren Buffet, Mark Cuban, Charles Schwab, Jack Bogle, etc. They all say that the average investor should invest in Low-Cost Index Funds. Every. Single. One.
Why would you screw it up?
Maybe I did end up choosing the right horses…But maybe not. Why was I bothering with something that is a tried and true method. Set it and forget it.
Ben Carlson, shows how simplicity beats complexity in real-life in "How the Bogle Model Beats the Yale Model" – he compares "The Bogel Model" of passive index investing with "The Yale Model" of actively managed endowment funds.
The results speak volumes:

This has nothing to do with active vs. passive investing. This is all about simple vs. complex, operationally efficient investment programs vs. operationally inefficient investment programs and high-probability portfolios vs. low-probability portfolios. Investing is hard enough as it is before introducing a complex, inefficient, low-probability investment style.

That's why the simple, efficient, high-probability Bogle Model wins.

How the Bogle Model Beats the Yale Model – A Wealth of Common Sense
If endowment funds can't beat index funds in the long-run, then there is no way in hell that I will be able to.
So why was I thinking that I could beat the stock market?
And for what? More stress, more decision fatigue. More trying to figure out when to sell, when to buy? What to buy? It's all effin stressful.
Making one decision that led to more decisions
I wrote a while back around 10 ways to overcome decision fatigue. I should heed my own advice.
Holding individual stocks was not only likely going to be non-impactful on my total returns, but it was causing a heck of a lot of decisions that needed to be made.
In fact, taking over my investment portfolio itself has caused my decision load to go way way up in the short term.
Eventually I will get my portfolio fully transitioned away from my former advisor, and transitioned out of individual stocks and into index funds. But this is likely a 2-3 year process due to capital gains implications.
My decision to start a play portfolio, in hindsight led to more decisions in the future. Holding an individual stock is much different than holding an index. You have to sell an individual stock at some point.
The shelf life of a company is not as long as the shelf life of the index.
So my one decision to buy more individual stocks, created an infinite potential of decisions needing to be made in the future.
It's not worth it.
Would you rather bet on a player, a team, or a league?
I feel confident in my decision to ditch my play portfolio.
I'll not only sleep better at night, but I'll likely have better returns in the long-run anyway. As Warren Buffett said to Jack Bogle in 2006:
This whole thing made me think about betting.
When you are investing in individual stocks, you are making actual bets. It is a gamble. No doubt about it.
Betting on players
In the case of individual stocks, you are betting on the player. Some players have great careers. They may be hall of famers. They may earn all of the accolades from Rookie of the Year to Most Valuable Player, to Defensive Player of the Year, All-Star teams, etc.
And this compares to individual stocks.
The run may be 5, 10, or 20 years. Once in a blue moon perhaps they'll go 100 years, but it'll come to an end. Do you want to be on something that has an expiration date?
Betting on teams
More sensible may be to bet on a team?
Teams' aren't reliant on one player. Even the Chicago Bulls' dynasties which were primarily powered by Michael Jordan, were team efforts: Scottie Pippen, Dennis Rodman, Toni Kukoc and in earlier years Scottie Pippen and Horace Grant.
So sure, you can bet on a team and they may win for years, but all dynasties come to an end and teams then have to go through a rebuilding phase.
Just look at this chart from Novel Investor of S&P 500 Sector Performance: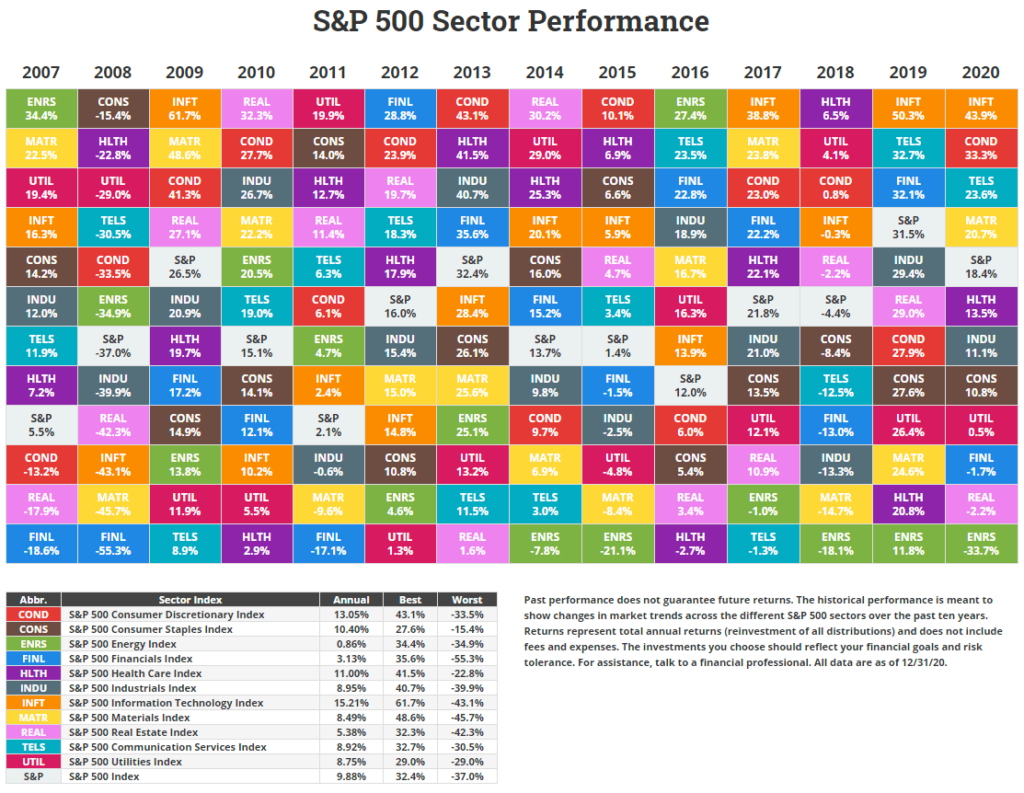 As you can see, there is nearly no rhyme or reason to which sector will win in a given year. So there's no betting on teams here.
Betting on the league
Finally there is the league.
Someone is going to win a championship every year. Not even the COVID pandemic could stop that from happening.
And popularity as a whole for the league continues to grow, year after year. And with the popularity of the league, comes the rise of the average franchise value: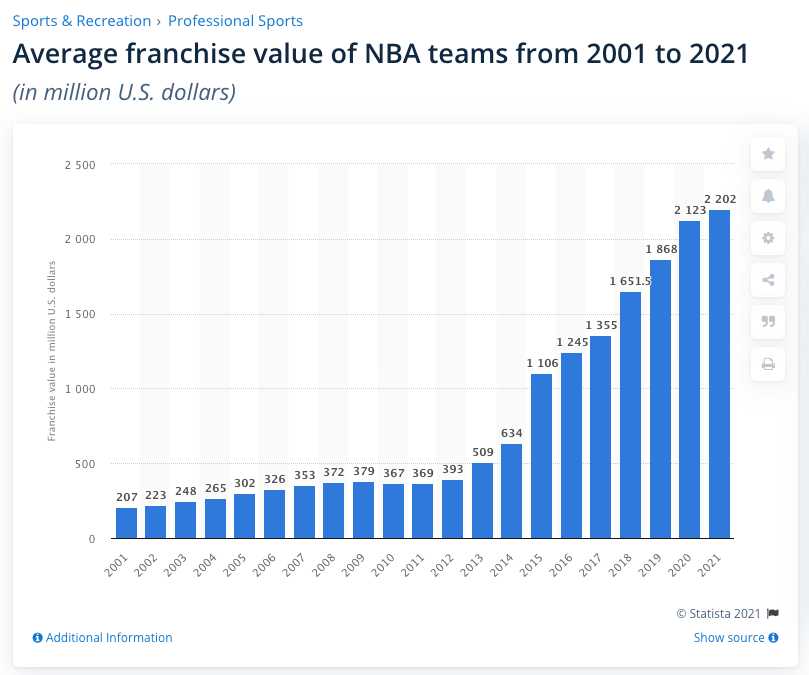 Clearly, betting on the league is going to get you the most consistent bang for your buck.
It doesn't matter what team wins every year. It doesn't matter who is MVP of the league. Doesn't matter. You still win!
Thank you common sense
Thankfully, I came to the realization pretty early into my investing career that I need to simplify my portfolio, not make it more complex.
I need to invest in the league and NOT bet on the players.
I need utilized the common sense imparted on me by Jack Bogle, and invest in low-cost index funds.
I trusted my gut. And it feels good. It doesn't matter to me what happens with certain stocks now. It only matters how the market is performing, and I know in the long-run the market is going to go up.
That is why every time I even think about betting on sports, I am going to take that money and invest it in $VTI instead. Gambling of any kind, is no get rich quick scheme. Period.
More from Accidentally Retired