This is the exact book that I needed a year ago
I was on the brink of leaving my high paying CEO job and I had just negotiated to leave my position. Now I was trying to figure out what to do next.
My initial plan was to take a mini-retirement for six months. And during that time, I wanted to start journaling and brainstorming on what I'd like to do next.
My wife bought me two beautiful custom notebooks as part of my "retirement" from my CEO gig. It was in one of these notebooks that I began my F.I.R.E. journey. But I had to figure it out all on my own.
I had to piece together the financial aspects of financial independence with the mental aspects of retiring early. I did this with a combination of reading, brainstorm lists, updating my life mantras, and journaling.
It would have been great if there had been a workbook to help me brainstorm about my future, and take an in-depth look at my finances.
The Financial Independence and Retire Early book we all need
Well now there is such a book!
The F.I.R.E. Planner: The step-by-step workbook to reach your full financial potential by Michael Quan from Financially Alert.
Michael was gracious enough to send me an early copy of the book, and I was blown away.
The book is a combination of
Worksheets/Journals
Case Studies of various FIRE bloggers (think MMM, Mr. 1500, Jim at Route to Retire and more!)
FIRE Tips
In-depth breakdowns from Cash Flow to the Cycle of Investor Emotions
Are you ready to work your F.I.R.E. muscles?
For me, the great thing about The F.I.R.E. Planner is that it is a mix of useful how-to and real life roll up your sleeves and get to work.
That is ultimately how I was able to progress on my journey to FIRE, and now you can too with Michael's very useful and thoughtful Worksheets.
Here is an example from the "Finding Your Why Worksheet:"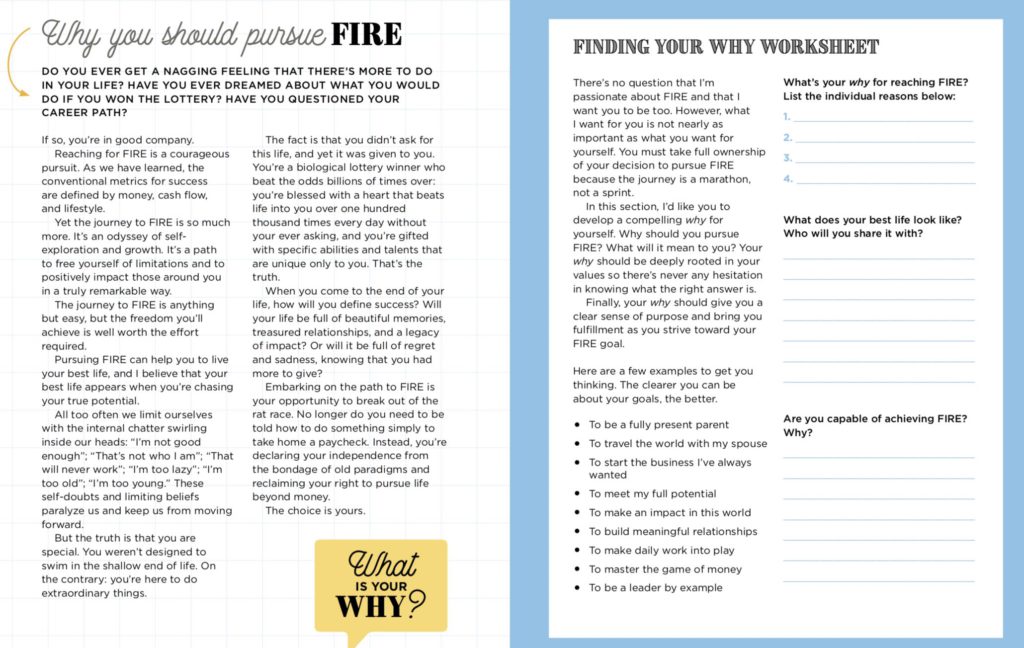 There's no question that I'm passionate about FIRE and that I want you to be too. However, what I want for you is not nearly as important as what you want for yourself. You must take full ownership of your decision to pursue FIRE because the journey is a marathon, not a sprint.

In this section, I'd like you to develop a compelling why for yourself. Why should you pursue FIRE? What will it mean to you?Your why should be deeply rooted in your values so there's never any hesitation in knowing what the right answer is.

Finally, your why should give you a clear sense of purpose and bring you fulfillment as you strive toward your FIRE goal.
Michael is asking us to dig deep right from the beginning. Prompts like these, are exactly the type of useful questions that will help you to not only dig deep, but explore the unexplored.
You shouldn't hesitate to fill out the worksheet with your unfiltered inner self.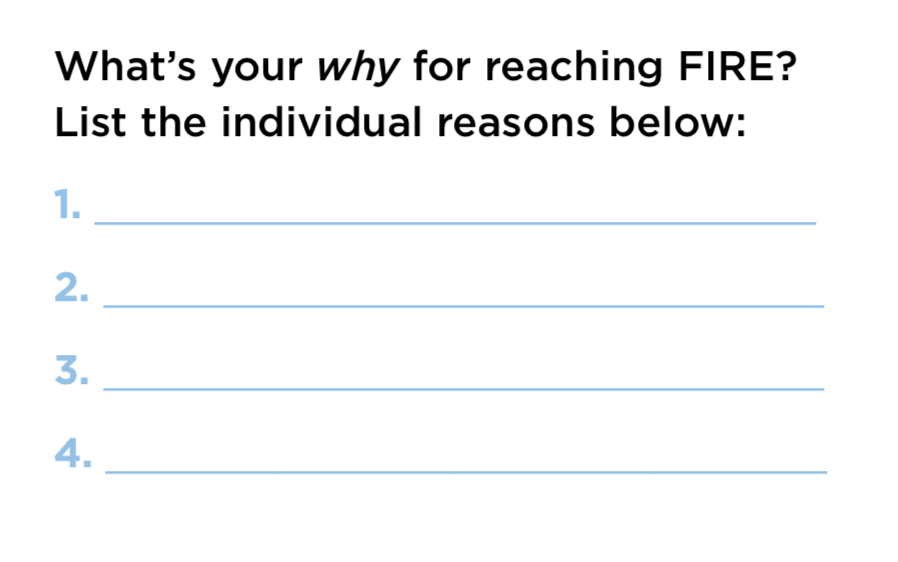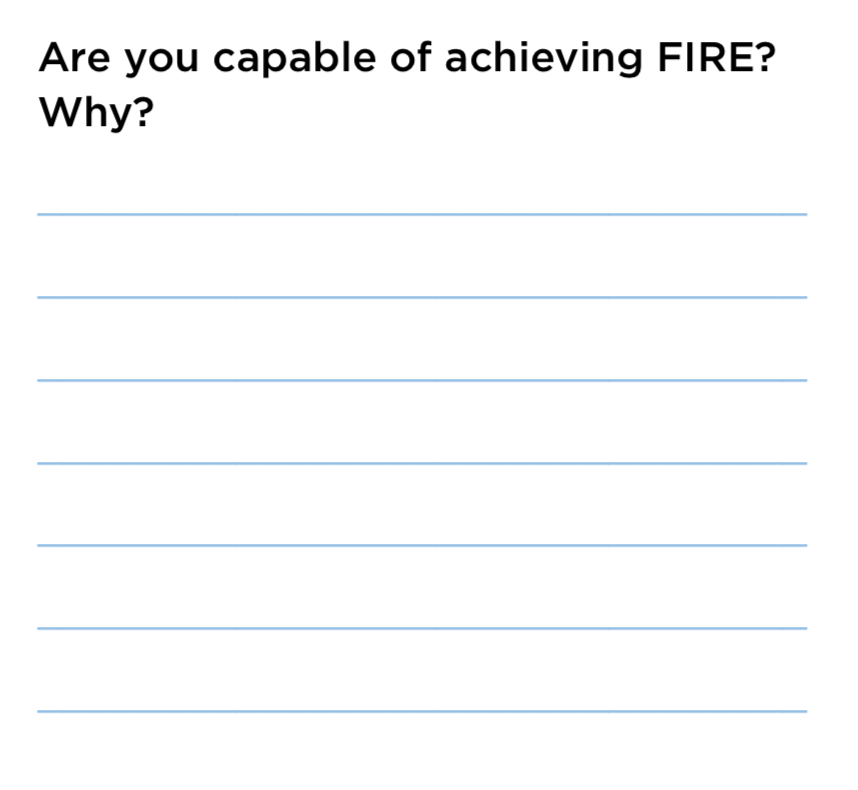 But this book dives deeper than simply why you want to FIRE.
It also helps you to discover money beliefs that limit you and ultimately assists with changing your money mindset to develop new financial habits: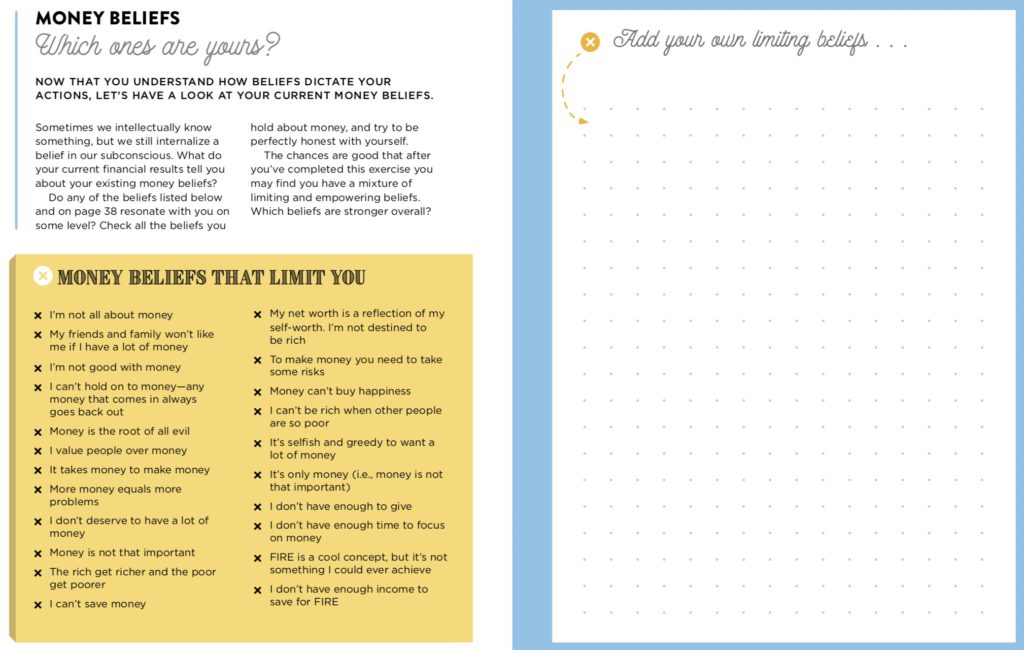 Plan your FIRE the right way
Michael Quan has created the The Artist's Way for Financial Independence, and I applaud him for it.
The F.I.R.E. Planner will help YOU firmly plan your Financial Independence.
Whether you are just getting started with your journey, or are already on it, I hope that you pick up a copy and dive right in.
Win a Copy of The F.I.R.E. Planner!
But it gets better. AR is doing a giveaway of The F.I.R.E. Planner.
All you need to do is sign up for my email newsletter and you are entered to win!
Pre-Order/Early Purchase BONUSES!
On top of the giveaway, Michael also has a Pre-Order/Early Purchase Bonus program. See the details as follows:
Pre-order Price Guarantee(*if purchased through Amazon)

If you pre-order the book now at the current price and it drops before the actual release date, you'll automatically get the cheaper price!

Invitation to a private LIVE Q&A where you can ask Michael anything about the book, FIRE, & money (preliminary date – Thursday, May 20, 2021 @ 4pm Pacific)
Early access to Book Resources as they become available (A FIRE cheatsheet, video interviews with individuals who have achieved FI, and more…)
Drawing for $250 to your favorite charity (must be a registered non-profit; no purchase required to participate – email 

[email protected]

 to enter)
Automatic access to all Financially Alert resources (Financial Freedom Blueprint, Millionaire's Toolbox, newsletter, etc.)
And more!
Instructions
To participate, just follow these 2 simple steps:
FIRST: Purchase The F.I.R.E. Planner from your preferred retailer no later than May 11, 2021.
SECOND:  Register your purchase here – https://www.financiallyalert.com/earlybookbonus.